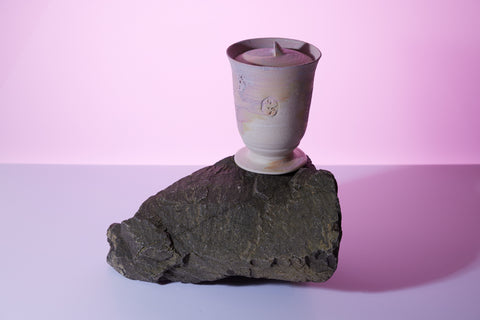 GRAND CLAY RELIC | IRTIU NEFERTITI
GRAND CLAY RELIC
The Beauty has arrived.
Notes of Blue Lotus, Fig Wood, Osmanthus Flowers, Passionflower, Gaiac Wood, Sandalwood, Musk
The sacred, primordial and fragrant Nymphaea caerulea, or Blue Lotus, was applied to the body of Egyptian Queen Nefertiti. Still one of the most important artefacts that remains from the Ancient Egyptian civilisation, Nymphaea caerulea was believed to gift euphoria and lift consciousness to the higher realms.
Inspired by Ancient Egyptian works of the New Kingdom Period, Curio Clay Relics are a range of individually hand crafted carriers for parfum and candles, exclusively made for Curionoir by self taught potter, Kirsten Dryburgh. Each vessel is made from clay from the South Island of New Zealand, then specifically glazed and fired multiple times to create the unique finish.  Due to the organic nature in which all of our Clay Relics are made, there will be variations in shape and colour. You will receive your own truly unique piece of art.
With the 'extra' ability to grace you with their presence, the GRAND CLAY RELIC gifts you with 100 hours of burn time and will fill your space with the most majestic scent.
Grand Clay Relic: 580g / 20.6oz (minimum) candles burn for 100+ hours.
Also in this Fragrance...
Recommended...